For those about to take over an existing car loan, you'll need the right documents and information in order to successfully transfer it into your name. It's important that you do this correctly; otherwise, a mistake could mean time delays, added fees or even the inability to purchase the vehicle outright.
This post is designed to help walk through all the different details needed for taking over a car loan and provide analytics on any potential pitfalls during the process. So if you're ready to tackle this daunting task, then read on as we dive deep into all of what's required for taking over a car loan.
1. Proof of Identity
When taking over a car loan, you will need to provide proof of identity in the form of government-issued identification. This could be a driver's license, passport, or other valid governmental ID. The lender may also require information such as your Social Security Number and current address for verification purposes.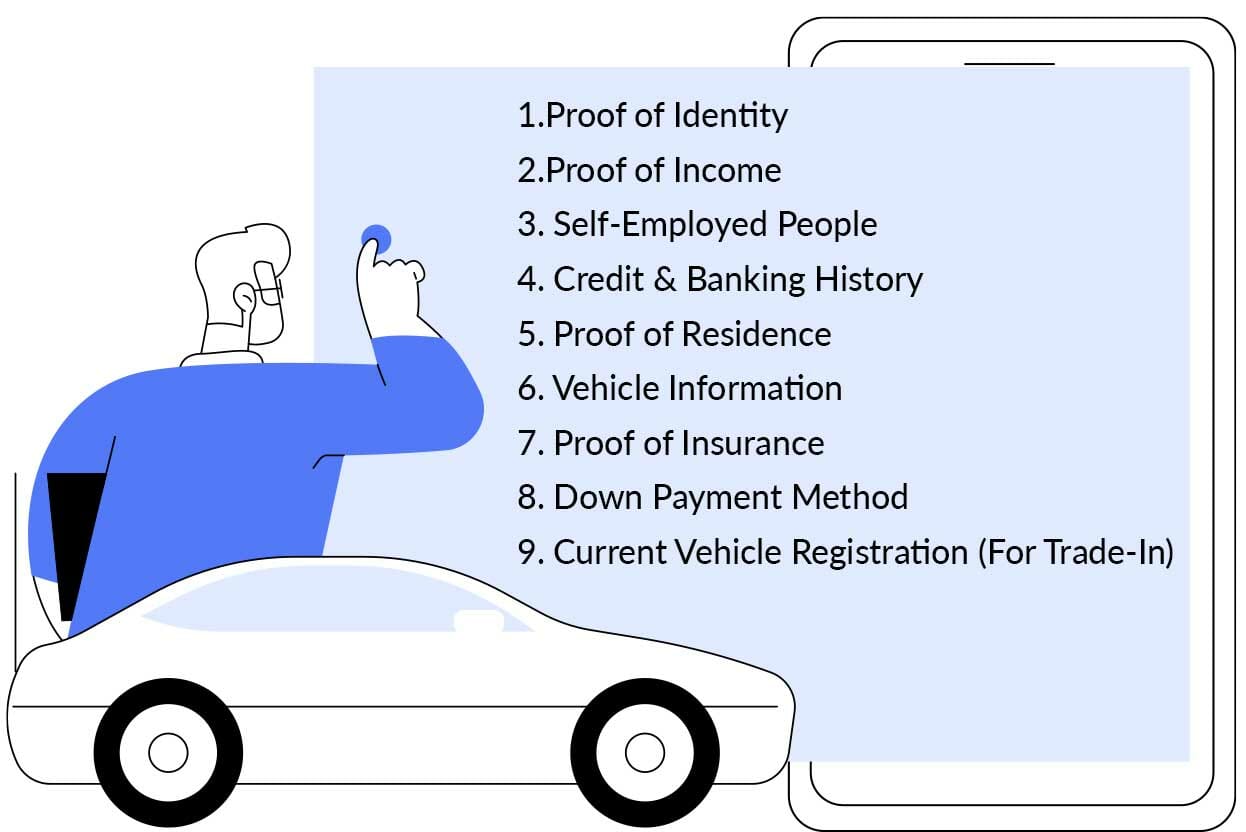 Additionally, it is important to note that if the car loan is being transferred from one person to another, both parties must present valid identification in order for the transfer process to go smoothly.
To secure an auto loan for your business, you must utilize your Employer Identification Number (EIN). Furthermore, lenders may necessitate documents such as articles of incorporation or a partnership agreement and business license to authenticate the identity of your enterprise.
To purchase the vehicle, dealers may require a business card and letter of authorization on company letterhead. In addition to presenting documents that verify your identity, other prerequisites might be necessary. These can include having a healthy cash flow as well as two years of financial reports.
2. Proof of Income
The lender may also require you to provide proof of income before they accept your application for taking over a car loan. This could include recent pay stubs from your employer or tax returns from the past few years. Depending on the lender, they may also ask for other documents such as bank statements or investment records.
These documents allow the lender to verify your ability to make the required payments each month and ensure that you are not taking on excessive debt.
When you're submitting your loan application, make sure to bring copies of your most recent pay stubs that display the amount earned so far this year. You ought to be ready with up to six months of bank statements or a W-2 in order to show proof of income. Occasionally, the lender may contact your employer to validate employment and income.
3. Self-Employed People
To ensure a smooth and efficient loan application process, self-employed people should bring copies of their last two years' tax returns to the lender. This helps lenders accurately extrapolate gross income from your taxes. When using a 1099 as proof of income, make certain to determine if your lender needs any documents approved by an auditor.
Demonstrating evidence of other sources of income or assets may bolster your chances of obtaining a larger loan, or even enhance the terms on an existing one. If you receive any income from sources such as rentals, legal settlements, alimony, child support, Social Security or anything else of the like – don't forget to bring the evidence with.
4. Credit & Banking History
To secure a car loan, lenders require your Social Security number as well as other personal information such as name, address and date of birth to review your credit score. Car lenders may resort to a lot of credit rating systems, including the widespread FICO auto ratings.
Additionally, they may inspect your credit background which includes the type of accounts you own, when those were opened and closed, loan or credit limit values, current balance status and payment history.
Debt-to-Income Ratio
When lenders assess your creditworthiness, they'll look at whether you have any past-due payments or unpaid bills, as well as the amount of debt existing relative to your income. This ratio is known as a Debt-to-Income (DTI) figure – it needs to be low enough for them to approve an auto loan.
Furthermore, loan officers may analyze public records and collections in your credit report including bankruptcies, property foreclosures, legal disputes with creditors, wage garnishment orders from creditors or government agencies as well as liens. If you have an extensive history of unpaid loans and collections, lenders will be hesitant to lend you money; this especially applies when it concerns auto loan repayments.
5. Proof of Residence
According to federal law, it is necessary for lenders to request details on and evidence of your place of residence. Most lenders will be satisfied if either your driver's license is up to date or the address you listed on the credit application matches what's written in your credit report.
If you've recently relocated, however, you may be required to produce further proof. Fortunately, it's effortless! You can simply use a piece of personalized mail that was delivered to your new address in the past month such as:
Utility bill

Mortgage statement

Lease agreement

Credit card or bank statement

Property tax bill
Medicaid or Medicare benefit statement
Homeowners or renters' insurance policy
When providing an address, a physical one is required. However, if you are in the Army or Navy and have an APO/FPO box as your mailing address, this will be accepted. Additionally, the address of someone close to you may also be used as a valid substitute.
6. Vehicle Information
When you purchase a car through a dealership and finance it, the dealer will provide your lender with all the necessary details about that vehicle. When working with a bank or private seller, it's essential to obtain or fill out the necessary documents like bill of sale, purchase agreement and buyer's order. These must include:
Purchase price

Vehicle identification number (VIN)

Year, make and model
Before you purchase a pre-owned car, make sure to confirm the above vehicle details with the seller. Additionally, inquire about its mileage, if it has an original title and also if there are any liens on it.
7. Proof of Insurance
After the bill of sale is concluded and you have taken possession of your new vehicle, it's time to provide proof that you are adequately insured. To ensure a smooth transition from seller to driver, make sure that the insurance coverage meets all state requirements and lender mandates before driving away in joy. Make sure to examine your current auto insurance policy, as you may be able to benefit from a grace period of coverage for your new car purchase.
For First Time Buyers
Before you purchase a vehicle, it is recommended that you obtain multiple auto insurance quotes if you do not already have an existing policy. In doing so, you'll be better prepared for what to expect and can make the best decision possible. Prior to financing a vehicle, be aware that most dealers require proof of insurance before permitting you to drive the car off the lot.
If you plan to purchase a vehicle during off-hours, like evenings or weekends, the process of securing the VIN number can be tricky. To avoid any hiccups in your transaction, make sure to have taken care of this step ahead of time! All that's required is the Vehicle Identification Number (VIN).
8. Down Payment Method
When you take over a car loan, you'll likely need to make a down payment. Depending on the lender and terms of the agreement, the required amount may vary. Generally speaking, the more money you put down upfront, the less interest you will have to pay over time—so it may be worth considering saving up some extra funds in order to reduce your overall debt load.
You can make your down payment in cash or with a check from your bank account. Some lenders may also accept credit or debit cards for this purpose, so if that is an option for you, it's worth exploring.
Additionally, it's important to keep track of any documentation related to your down payment method for future reference. This could include copies of your bank statements, credit card bills, or any other paperwork that can verify you made the payment.
9. Current Vehicle Registration (For Trade-In)
To ensure a swift, successful car trade-in experience, you'll want to bring your vehicle's title and registration. With the certificate of title in hand, it proves that you are indeed the rightful owner of this vehicle and any lien holders will be documented as well.
Not only will you need to provide an odometer statement, but depending on the state, a smog certificate and disclosure of any damage that happened while you owned it might also be required. If you don't have the necessary paperwork, most car dealerships will provide them for you to complete.
Conclusion
The process of taking over a car loan is more or less straightforward and painless, as long as you have the necessary documents. Start by making sure that the seller is willing to transfer the loan to you, then get a credit report.
You'll also need to submit an application with your personal financial information and possibly provide extra documentation to confirm employment or income. Finally, be patient while waiting for lenders to approve the transfer of a car loan—it may take some time before you can drive off in your new car.