We all have our moments when we're in a tight spot and need an extra bit of money. Whether it's to cover an unexpected expense or buy something you really want, these moments can be stressful.
But don't worry – cashback loans offer the perfect solution. Cash back loans are short-term loan services that provide timely access to cash in just 15 minutes, so you won't have to wait around for days just to get the money you need. In this post, we'll look at how cashback loans work and their benefits, so that you can make a more informed decision about which type of loan is right for you.
Types of Cashback Loans
Cashback Loans offers a wide range of loan options that can help you cover the expenses of any situation. There are two types of cash back loans. Check them out below.
1.     Payday Loans
Payday loans are short-term loans designed to help you get through tough times. These types of loans provide cash quickly, so you can cover any immediate expenses that arise. They must be repaid on your next payday, or within 30 days at most. This type of loan usually carries high-interest rates and fees, but they can be helpful in a pinch.
2.     Installment Loans
Installment loans offer longer repayment terms than payday loans, allowing customers more flexibility with their finances. Unlike payday loans where the full amount is due on the borrower's next payday, installment loans allow borrowers to pay back the loan over time in multiple installments.
The repayment period can range from several months to years, depending on the size of the loan. The interest rates on installment loans are typically lower than payday loans, making them a more attractive option for those looking to borrow larger amounts of money.
How to Get Cashback Loans
Getting a cashback loan is easy and convenient. Here's how:
Decide how much money you need. Be sure to consider all the costs associated with taking out a loan, such as fees and interest rates, before deciding on an amount.
Choose a lender. There are many lenders offering cashback loans, so choose one that suits your needs the best. Compare offers from different banks and online lenders to find the best deal available for you.
Check your credit history and score if necessary. When applying for a loan, some lenders may require you to have good credit in order to qualify for better terms or lower interest rates. Get your credit report from any of the three credit bureaus (Equifax, Experian, and TransUnion) to check your status.
Fill out an application form. Most lenders will require you to fill out an application form in order to process your loan request. Make sure that all of the information is accurate and complete before submitting it.
Submit the necessary documents (proof of income, ID, etc.). The lender may need additional documentation from you in order to verify your identity or assess your financial situation. Examples of these include pay stubs, tax returns, bank statements, etc.
Wait for the loan decision and receive the funds if approved. Once you've submitted all of the required documents and information, the lender will review your loan application and make a decision. If approved, you'll receive the funds in your bank account within one to two business days.
Benefits of Cashback Loans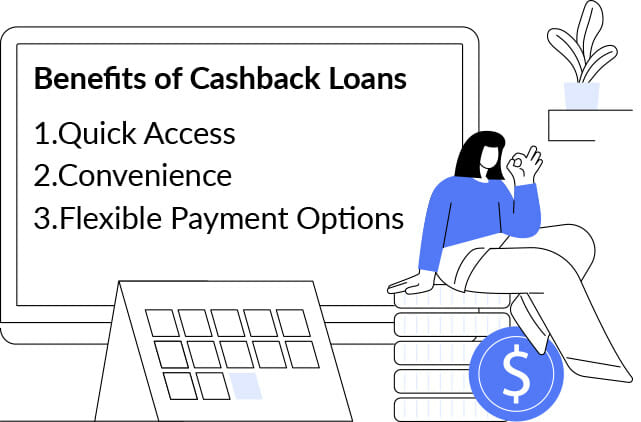 Cashback loans also come with a range of benefits that can make them an attractive option for borrowers. Some of the key advantages include:
1.     Quick Access
One of the key benefits to Cashback Loans is that it offers quick access to money. Whether you are looking for a short-term loan or a long-term installment loan, Cashback can provide you with the necessary funds in a timely manner.
You don't have to wait days or weeks to receive your loan; instead, you can get approved and funded within 24 hours, depending on your credit rating. Additionally, Cashback loans offer competitive interest rates that can save you money over time.
2.     Convenience
Another great benefit of Cashback Loans is its convenience factor. You don't have to leave home or take time off from work to apply for a loan, because everything is done online with an easy application process that takes just minutes. Plus, you can access your loan 24/7 with the Cashback Loans mobile app.
3.     Flexible Payment Options
Cashback Loans provide flexible repayment options to make it easy for borrowers to pay back their loans on time. Customers have the flexibility to choose between single payment loans or installment loans and can also adjust payment amounts depending on their individual budgeting needs. Additionally, Cashback Loans offers a variety of loan lengths ranging from 4 weeks to 24 months, so you can find the best option for your particular financial situation.
Disadvantages of Cashback Loans
There are a few potential drawbacks to using cashback loans.
First, borrowers should be aware that these types of loans often come with much higher interest rates than traditional loans. This means that the borrower will end up paying more in the long run for their loan.
Second, many lenders require a high credit score in order to qualify for a cashback loan. If your credit isn't strong or you don't have any credit at all, you may not be able to get a loan from certain institutions offering cashback offerings.
Additionally, some borrowers find it difficult to pay back multiple debts at once as they accumulate interest and can become overwhelming over time if left unpaid. It is important to remember that getting into debt takes time and effort to pay off and cashback loans may not be the best option for those who are already in a difficult financial situation.
Borrowers should also be aware that with cashback loans, you're often working with an online lender rather than a traditional bank or credit union. This means that you won't have access to the same level of customer service as you would if you were dealing directly with a local financial institution. Additionally, online lenders may lack transparency in their policies and procedures which can make it difficult to understand your rights as a borrower.
Terms of Use
At CashBack, the terms and rates of payday loans, title loans, and signature loans vary; however it is our mission to make sure that all details are accessible on our website. A clear depiction of loan specifics allows borrowers to have a more straightforward understanding before committing. Your eligibility and repayment capacity are the two primary factors for loan approval.
CashBack payday loans offer a maximum of $300 – get up to $255 in cash and invest the remaining $45 towards loan fees. The precise amount for which you may qualify could be less than $300, contingent upon your income. Depending on the situation, repayment terms can span from 1 to 31 days.
What to Consider Before Taking Cashback Loans
Before taking cashback loans, there are some important things to consider.
1.     Understand the Terms and Fees
Firstly, ensure that you understand the repayment terms and fees associated with the loan. Every lender is different and it's important to be aware of any prepayment fees or other costs related to the loan.
2.     Know Your Credit Score
Understanding all aspects of your agreement is essential for avoiding any difficulties in repayment. You should also be sure to check your credit score before applying for a cashback loan. A good credit score can help get you better terms on loans and make them more affordable. If your credit score isn't great, try improving it first by making payments on time, paying off debt, and managing your spending carefully before taking out a loan.
3.     Are You Able to Pay?
Another important factor to consider when taking out a cashback loan is your repayment ability. Make sure you have enough income to cover the payments, as missing them could lead to repercussions, including late fees and interest rate hikes.
Additionally, if you're already carrying debt from other sources, it may be difficult for you to take out a loan. In this case, it might be best to consider other options before going ahead with the loan.
4.     How Much Money Do You Need?
Think about how much money you actually need and whether or not a cashback loan is a right option for your circumstances. Remember that loans should generally only be used in emergencies or for long-term investments such as purchasing a car or home repairs–they aren't meant for everyday spending.
5.     Know Your Options
Also, be sure to compare all the available options before committing to a loan. Different lenders may offer different interest rates and repayment terms so it's important to shop around and choose the best option for your situation.
Cashback loans can provide extra funds in an emergency, but they should be approached with caution and consideration first. By taking the time to understand all aspects of a loan agreement, you can ensure that you make the right decision for your finances.
Conclusion
Cashback Loans is a great choice for those who are looking for convenient and affordable loan services. With competitive rates and flexible repayment options, you can easily get the cash you need with minimal hassle. Plus, their rewards program allows customers to earn more cash back on their loans. Whether you're looking for short-term or long-term financing, Cashback Loans is an excellent choice.